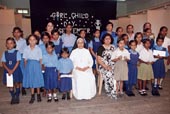 Jamshedpur, Sept. 24: The Association of Sacred Heart Alumni (Asha) today observed the Day of the Girl Child by lending a helping hand to some underprivileged students.
Ten children from five schools got Rs 1,000 each and two meritorious students from each of the five schools received financial assistance to ensure that they could continue education in higher classes.
The beneficial students were from DBMS Liliput School, KPS in Kadma, Loyola Project School, Kerala Samajam Model School and Carmel Junior College.
"We gave them the money so that they could get their new academic books well on time," said G. Lalita, senior teacher of Sacred Heart Convent School and a member of Asha.
Encouraged by the help, the students had smiles and determination writ large on their faces as they went up the stage to receive the money. Cheering them was Subhra Mukherjee, the trustee of Prem Jyoti Prangan, a school for Jamshedpur's underprivileged children.
"It is really sad that even today there is discrimination in the name of gender. When it comes to education, boys are still given preference over girls," said Mukherjee, adding that girls make better leaders and it is essential that they get proper education.
At the event, the students of Sacred Heart Convent School promised to extend their help in educating the children of their domestic help. Waking up to the need of teaching the less fortunate, the students would now get together to teach.
"It will definitely be a good thing for the underprivileged children. We can help them in a small way and ensure that a difference is made in their lives," said Priya Singh, a student of the school.
The members of the alumni association would host an event called DJ Nite on October 16 to raise funds for the cause of educating girl children.