As published in the HT Jamshedpur Live, July 22, 2007
---
Alumni Associations of the Loyola School and the Sacred Heart Convent (SHC) are forging new ties to bring both the schools closer. Both the schools would soon be celebrating their Feast Day together.
The Loyola Alumni Association (LAA) and the Association of Sacred Heart Convent Alumni (ASHA) came together on one platform during a musical event Antakshari.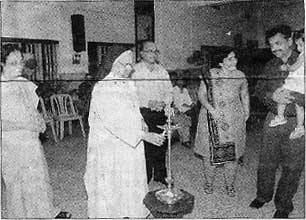 Principal of Sacred Heart Convent. Sister Teresita Mary said that the proposal for celebrating the Feast Day with Loyola School has been mooted. "Alumni associations of the both the schools have decided to work jointly and they approached us for organizing social events. Antakstari was a part of one such event," she said.
LAA office bearers claimed that former students of both the schools were eager to carry out social activities. "LAA is already involved in serving poor patients through its free medical clinic. We are trying to expand our horizons. Similarly, we are planning to help Asha members to take up charitable and social activities to uplift downtrodden," they said.