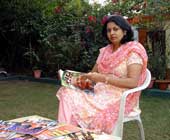 "Didi - just saw this picture and had to share it with you", I received an email from my sister last week. Some former classmates had started a Yahoo Group for 1981 Sacred Hearters. When I went to the homepage, 1 saw a faded picture of the school as I remembered it. So much has changed since then....
Sacred Heart Convent School... I was a student there from kindergarten all the way to high school and took the ICSC exams in early 1980. 1980? Goodness… it cannot have been that long. When 1 think of Sacred Heart I am transformed into a high schooler again - I return to the time of planning student body events with Sister Doris, enjoying history for the first time with teacher Violet Moss, complaining about English essays to Mrs. Natarajan, playing basketball with Chandu Sir, doing community service projects for the Interact Club with Mrs. Venkat, practicing for cultural shows with Lalita Chamanlal, oh the list goes on. Hmm.. Nargis Billimoria, Mrs Rastogi (Hindi), Mrs. Panthaky (Chemistry), Mrs. Subramaniam (Mathematics)...the names rush back as I remember that time. Life was so simple. Sounds so cliché doesn't it? I am reminded of classic Hindi movie scene where a white sari clad Nirupa Rai goes "Aaj se bees saal pehle as she reveals a secret of a long time ago. Bees saal felt like SUCH long time. I am astounded to realize that it has been over 25 years since I left Sacred Heart.
I can play Nirupa Rai!
Much has happened in my life, as is to be expected. I got my Bachelor's degree from Jamshedpur Womens College, got married and left for Units States. Adjusting in a new culture, a new husband, a new lifestyle and even a new accent was a challenge. I had always lived in the bosom of my family and now I was in a new country 10,000 miles away from the nearest family member. I came to California at a time when there was no Little India, or Indian shopping enclaves and few restaurants.
"Women are incredible beings", my mother reminded me. "We can adapt and handle many roles very comfortably". Before long, I was a mother of twin boys – Vishal and Tushar, the joys of my life. I adjusted to my new environment – after all I had grown up in Jamshedpur, a very cosmopolitan town. San Jose, CA a lot like that- except people are here from all over the globe.
I was used to being in thick of things (Thank you Sacred Heart!) and jumped into activities when I got a chance. I volunteered at the school PTA. Worked part time at India Currents as calendar editor and also started Bihar Samaj, a community group for folks to network with others from their home towns. I know that today Jamshedpur is in Jharkhand, but I will always be a Bihari!
See, my experiences at Sacred Heart gave me the confidence that I have carried with me through my life even in the toughest of circumstances. After seventeen years of wonderful married life, I suddenly lost my husband to cancer. I now had the sole responsibility of running my household and taking care of my kids. In my darkest moments my family and friends rallied around and reminded me that I was capable of doing anything I wanted to.
Today, I am the publisher of India Currents and we are the largest circulating Indian magazine on the West Coast, printing over 32,000 copies every month. I have now learnt to handle my finances as well as my home. I feel a curious mixture of pride and sadness as I see Tushar and Vishal leave for the prestigious University of California, Berkeley this fall.
(Vandana Kumar lives in California and loves to watch her children perform in Bollywood dance competitions. You can contact her at publisher©indiacurrents.com)
Vandana Kumar
California
---
As published in the Sacred Heart Convent School Diamond Jubilee Souvenir, 2005