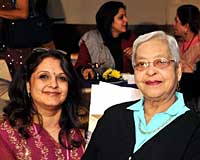 30 years just fell away, when the batch of 1980 gathered at the portals of Sacred Heart on November 27, 2010. What did it feel like? Like nostalgia in a bottle…. memories of growing up, learning to stand up for oneself, lunches shared with friends under the shade of trees, standing completely at attention when the bell peeled in fear of the Cabinet Members doing their rounds….of course, all this in addition to English, Math, History & Geography....all came rushing back. Along with the tears that threatened to overwhelm us, as we thought back to all the reasons why we wanted to grow up and fly the skies….when being in that safe environment had been so much sweeter!
The mind is undoubtedly a strange place…seeing classmates after three decades felt no different as if it were just yesterday that we had played, fought, hugged and laughed. Sharing Mass at the Chapel, singing the same old hymns, trekking the halls, being 5 again as we swung on the merry go round, got our skirts dirty on the slides, wanting the moment never to end….it was a time out of time. For the current students @ Sacred Heart, revelling in their 'last day' at school, we appeared to be some source of amusement, acting younger than they were as we posed for pictures in an attempt to capture the moment forever. If the indulgent smiles on their faces were any indication at all….oh, if they only knew…
As a batch collectively, there was a great measure of success evident…happy stories….funny ones too, which was heartening to see. As there was, on the flip side, an equal measure of sadness….for disappointments that were inevitable, losses that were unnecessary, and the 'why me' syndrome that plagued some of us. The mosaic of life is truly like that…the good with the bad, the highs with the lows… and it is the fortitude that we learnt in this cradle of our youth that helped guide us through it all to be the complete women we are today. Three Cheers to the Class of 1980…..we made it!
For a decade that began with Y2K and ended with this Pearl of a Reunion….we couldn't have had a sweeter ending if we tried… For those of you, who haven't already had a meeting of bodies & souls, try our model sometime. It is an elixir not to be missed!
Reunion photos
Click on photo to view gallery.