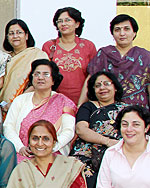 'Hail our School, Sacred Heart, Hallowed school Happy school thee we love … ' the strains of the school song rang out at the Tahiti Café, Beldhi Club Jamshedpur on 18th December 2011 as the batch of 1977-78 met for their reunion. Twenty seven gorgeous 'girls', two sisters and five teachers. What a wonderful mixture of nostalgia, laughter and great memories.
Over a sumptuous lunch the students and teachers reminisced of the old days, shed a tear for the three classmates no longer with us, Geet Kohli, Vidya Oak and Snigdha Tiwari. Another interesting pastime was trying to identify the girls from the class pictures of yester years.
The evening of the 18th was a formal affaire, red and pink were the theme colors. Was an evening of singing and dancing and catching up. Accompanied by a gourmet meal and drinks, the Sacred Heart girls danced into the wee hours.
The next day, this was followed by Picnic at the Jubilee Park with street food and more girl talk. The last event was a visit to the school. The joy and enthusiasm of seeing the old classrooms, pointing out the changes to the building and trying to relive the school days was exhilarating. A number of girls ran to the taps to drink water as we did in the old days, and a number of girls sat in one of their old classrooms, identifying their original seats.
The wonderful work being carried on by the Sisters of Sacred Heart and the members of ASHA in running a free afternoon school for poor children was much appreciated.
Goodbyes and plans for the next re-union ended the magical two day event.
The re-union was truly an overwhelming and inspiring event. An event that will live on in the minds and hearts of all who attended and all who see the pictures and hear the stories.
Nb: The event was attended by:
Neera Nandwani, Anahita Mehta Taunk, Ruby Gandhy, Sujata Misra, Sharmila Bhattacharya Ghosh, Piali Ghosal, Sarbari Chowdhury, Vandana Atucla, Mrigakshi Sinha, Ipshita Chanda, S R Rita, Abha Vishwakarma, Aloka Gupta Sensharma, Sudha Sastri, Susmita Maitra, Indrani Dasgupta, Durga Rani, Manju Sharma, Jitender Sokhi, Gauri Iyer, Sutapa Mukherjee, C Jayshree, Sheila Rajgopalan, Maya Rajiv, Pushpita Maitra,   Keka Ganguly, Parizad Kavina
Tr Nargis, Tr Ranjana, Tr Lalita, Tr Venkat, Tr Rachel
Sr Teresita, Sr Eva