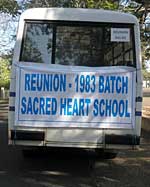 Sacred Heart School, Batch of 1983 have got together from across the country and abroad for a   flashback of the unforgettable memories of their school days.
The reunion happened over two days, which began on the 22 December with a grand welcome breakfast at the Beldih Club, followed by a visit to the School. The batch spent over two hours at school reminiscing the sweet memories of school and childhood.
Hail our school – Sacred Heart -Hallowed school, Happy School  thee we love... echoed once again between the buildings and corridors. They had a quick chat with the present Principal of the school , visited the chapel, sat in classrooms and scribbled on the boards going down memory lane.  A drive around the city for those visiting the steel city after 30 years and feasting over local fast food was the climax of the day.
The evening of 22nd was a get together with teachers over dinner at Sonnet – a pictorial presentation of special moments at school being the highlight of the evening.  The loud chorus of hippie –i-o and Love it was that made us brought back fond memories of songs sung during the assembly. The batch was dressed in blue and white – the coordinates of their school uniform!
23rd morning was a fun filled  picnic at a farm house where the girls played their childhood games. This was followed by a closing dinner at Beldih where they shook their hips to old time numbers to their hearts content. By midnight, moist eyes and good byes brought a sudden lull to the banquet which was filled with noise and laughter all evening.
At the end of two days, each one carried home memories to cherish for a lifetime.