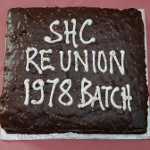 1. We reached Jamshedpur on Oct 26th (Friday) 2012. Some of us reached in the morning and some others in the evening.  Eight of us stayed at The Sonnet. Others stayed with their relatives and friends.
2. In the evening of Oct 26th all the girls came over to The Sonnet and then we all proceeded to "The Madrasi Cafe" . Many of us were seeing each other after 34 years !
(I was seeing my Jamshedpur and Kolkota girls for the first time after 1978...since soon after school I was sent to Kerala for college...and like me there were many others in the group who had left Jamshedpur soon after the ICSE exams)
3. We had a grand time sharing and eating  dosas , uttappas,  idlis .....our first meal together after so many years. We sang our school hymns (loudly) after the meal despite the fact that there were others in the cafe staring at us. After that a round of softees.
4. Next day (Oct 27th) we met up at the school...took a lot of pics ...and then moved on to Beldih Club where Sr. Teresita  Mary , Mrs Billimoria, Mrs Taneja, Mrs Sareen and Mrs Venkat met us.
5. There was a presentation regarding our batch mates  a life synopsis ...of what they did after leaving school in 1978 ...and what they are doing now ...along with pics of their families.
6. We presented Sister Teresita Mary with a cheque for the Sacred Heart Project School.
7. In the evening we met up at the rooftop of Relish and had a gala evening of music and dance and dinner.  Ruma Hazra  was our kind host
8. Next day we drove to Telco Colony ...took darshan at Devi Bhuvaneshwari temple and Shree Krishna temple. Then we proceeded to Telco club for lunch.
At 3 pm we left Telco and moved back to Sonnet .....said our good-byes and left for the station to catch our train to Kolkata. Next day we took our respective flights back home.
Whew ...what a memorable weekend it was !!!
Deepa Mishra and Sweety Vyas came down from the US; Lalitha Ganesh came from Muscat and I came down from Bahrain for the reunion . Others who could not make it to the reunion sent in their contributions for the school kitty.