[sigplus] Critical error: Image gallery folder agm13 is expected to be a path relative to the image base folder specified in the back-end.
Association of Sacred Heart Alumni (ASHA) Annual General Meeting was held on February 10, 2013 at the School. Ms. Deepali Misra was appointed as the new President. On the ocassion three alumnae, Abha Vishwakarma, Smita Das and Sarbari Chowdhary were felicitated for their achievements!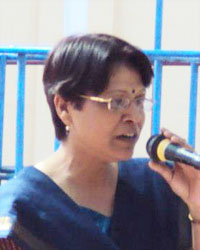 Abha Vishwakarma
She is in the teaching profession for the last 25 years. She teaches Economics to the 9th, 10th, 11th &12th graders.Teaching has been a satisfying and rewarding vocation for her. Her life as a teacher has been a learning experience. Interacting with young minds is enriching, as the present generation is far ahead of our times.
In her  free time she  works for the Art Of Living, Jamshedpur chapter and works for the rural schools.
She was a Fullbright scholar in the year 2012. She was placed in Kent State University, Ohio.
Her interests are reading, writing, painting and singing.
Her poem got selected for Who's Who Poet of the Year 2012, Los Angeles.
She received the prestigious 'Pearson NDTV Award' for excellence in school teaching. She received this award in New Delhi on 22nd January 2013.
Smita Das
Smita Das felicitated at ASHA AGM for her achievement in excellence in school teaching.
Part of SHCS 1984 batch
Completed graduation from Ranchi University
Certification in 'In Service High School Teacher Training'.
Currently working in Motilal Nehru Public School as a Pre-Primary teacher.
Professional Achievements:
International School Award 2012 from British Council for supporting the integration of international learning in school.
Appreciation by Motilal Nehru Public School, for active participation in Clean Up Jamshedpur Campaign and preparing projects for ISA & Bhopal.
The prestigious 'Pearson NDTV Award' for being among st the top 74 Teachers of India and also among'st the 5 nominees of the best Pre-Primary teachers of the country. She received this award in New Delhi on 22nd January 2013.
Sarbari Chowdhury
Sarbari Chowdhury has written a book of short stories ' Earthen Angels', published in 2009.
Sarbari Chowdhury was born and brought up in Jamshedpur. She is of the 1978 batch of SHCS. She is an engineer by training, currently working at a Fortune 100 company, Intel. She has been writing short stories and poetry since childhood. Her work has been published in multiple newspapers and magazines, including 'The Statesman' Kolkata.
She is socially active and her work is mainly focused on keeping the Indian culture alive both in India and USA. She has been the President of India Association of Phoenix and the Phoenix Bengali Association. Her other interests are traveling, skydiving and reading. She currently lives in Phoenix, USA with her husband Debashis and two children Shilpika and Abhik.
More Pictures of the AGM
{gallery width=200 height=133 maxcount=0}agm13{/gallery}