ASHA AGM 2020
Posted on 4 June 2021
The Annual General Body meeting of ASHA was held on 9th August 2020
Little could we have imagined sitting far away from one another but yet, would be converging on the little screen 'Google Meet' for the Annual General Body Meeting.
This was unprecedented, brought about by the Covid 19 pandemic situation which forced ASHA members to maintain social distance, don their masks, and continue with their lives and activities. The fun and laughter, good food and snacks and the bouquets of roses and little gifts and mementoes were not there... it is a different world altogether now.
The present Committee operational since 2017 completed three years of its tenure.
2019 -2020 was a memorable year for ASHA, being the Platinum Jubilee year of the School. The Alumni Association besides its formal annual events like UDAAN, International Girl Child day celebration, DJ Nite Musical event, donations to Missionaries of Charity, took another step to donate Rs 5000/ to the Association of Parents of Mentally handicapped, a lesser-known organisation in Jamshedpur, desperately in need of funds.
Platinum Jubilee of Sacred Heart Convent was celebrated on 13th and 14th December 2019 by ASHA. We reached out to many of our alumni spread across different continents via E-mails and WhatsApp. Approximately 249 alumni members attended the celebration. They were from the USA, UK, New Zealand, Mumbai, Kolkatta, Bangalore and other cities of India.
Invitations had been sent to Sisters of the Convent and retired Senior Teachers. The Mega event started off with invocation to God, 'Saraswati Vandana' a dance recital by Pubalee Bera alumni 1986. The Ceremonial Diya was lit by Sister Flavian, the founder of ASHA along with Sister Doris, Sister Terresita Mary, Sister Marie Eugine, Sister Mridula, Sister Rashmita & Mrs Daisy Irani the founder President of ASHA. Then followed another dance performance by Antara Bose. Thereafter, Sisters and the Teachers who had served for more than 20 years were felicitated with Mementos.
After the initial formal proceedings, the ASHA's formal welcome note was delivered by President Manjeet Marwa, She gave a Powerpoint presentation of projects taken up by ASHA over the years. Thereafter, ASHA Secretary, Sumita Singh presented ASHA Activity report.
The long-awaited moment had come for ASHA to project a short film; a 16 minutes documentary of the school, following which there was a 15 minutes Tea break with snacks served in the school lawns.
Then the much-awaited musical nite with a live band ' Legends of Melodies ' with the popular mix of old and new film songs enthralled the audience for two hours. The band organised by ASHA alumni Smita Kulkarni, had come all the way from Pune. It was Dance, Music, Masti all the way. There were rolling snacks, singing and dancing by different alumni batches, meeting after years coming together remembering their school days filled them with nostalgia. Photo sessions were endless.
The next morning 14th December started with the morning session, titled 'My story' was staged, in which three speakers, Rupa Mohanty, Purnima Dore and Khushboo Singh relived their school days. Rupa Mahanty spoke about how she coped up after having lost her only daughter in a major fire accident, she converted the Tragedy into an opportunity to benefit society, gifted an Auditorium to the citizens of Jamshedpur, in the name of her daughter. Khushboo Singh spoke about how little things groomed her in the school,. no nail polish, no clips gradually transformed later into major lessons in life. Small things learnt in the school stay with you, do not easily go away. Purnima Dore related snippets from her life story, the challenges she overcame, the lessons she learnt and finally how she landed a Corporate job of great responsibility.
After their brief story sessions, there was an interface with the audience wherein, a Question answer session followed. It was enjoyed by 100 odd audience who were present in the main School Hall. This session was followed by coffee, and sandwiches, cupcakes and wafers.
Finally the same evening the gala event started with the Alumni meet. Different batches had come prepared, they put up a mega show. Others had made videos of their batchmates, which were shown to the audience. There were also solo dance performances by Sunita Sinha, Antara Bose and 'Ek Shamma' by Pubalee Bera which had the audience spellbound. After the mega show, there was a multicuisine Dinner for the Alumni and other invitees. ASHA members were gifted Momentos; Mug with the Sacred Heart Convent building across one side and Platinum Jubilee 1945 - 2019 other side.
The two-day event was appreciated by one and all, as they came together after years from far and wide and met many of their classmates, juniors, seniors, their Teachers, their Alma mater. It was a great Homecoming and Bonhomie. After Dinner, Everyone departed carrying fond memories deeply etched in their minds.
ASHA is grateful for the contribution made by some of our Alumni, which helped us in conducting such a successful Mega event.
Donation for Platinum Jubilee Celebrations December 13 and 14, 2019
ASHA received donations from a number of our alumni. Some of their names are mentioned here:
| | |
| --- | --- |
| Pooja | Geetika Srivastava |
| Barnali | Lalita kambhampati |
| Kamal Antia | Daisy Irani |
| Amrita Ganguly | Khushboo Singh |
| Nimisha Das | M Vineeta 1996 |
| Shruti Mathur 1984 | Sujata Nair |
| C D Prasad | Sudharika Bhuvna |
| Preety Kedia | |
Handing Over The Reins of ASHA to the Next President
ON 9th August 2020, Manjeet Marwa President of ASHA handed over to the next President Ms Reena Hazra virtually, the formalities were completed on 4th December 2020.
Unfortunately, Reena Hazra after recovering from Corona succumbed to Pneumonia soon after and passed away on 8th December 2020.
A Prayer Meeting was held over Google on 13th December 2020 in loving memory of Reena Hazra.
2020 being a Covid year, the school remained closed, no ASHA activities could be conducted. However, besides the regular Annual donations, ASHA donated an amount of 50,000 / for the cause of Corona to the Tata Steel initiative working for Corona patients. During Covid times, Teacher Samarpita, ASHA Coordinator volunteered to work with Rotarians in assisting and counselling the senior citizens confined within their walls and unable to procure their medicines and other provisions over the phone. Her services were recognised by society and the media.
Reorganising the ASHA Committee – 2021
December 29, 2020, another google meeting was held to reorganise the ASHA Committee.
Sumita Singh of batch 1984, was elevated to the President's Post.
G Lalitha Sheshadri of batch 1975, was given the portfolio of ASHA Secretary,
Samarpita of batch 1990, was given the charge of School Coordinator and
Mahrookh of batch 1964 continued as the Treasurer of ASHA.
The new ASHA Committee becomes functional in 2021.
ASHA members greet the sisters on the occasion of the Sesquicentennial Jubilee of the Establishment of the Apostolic Carmel in India.
ASHA organises a picnic at Hotel Hill View at National Highway 33 on 6th February 2021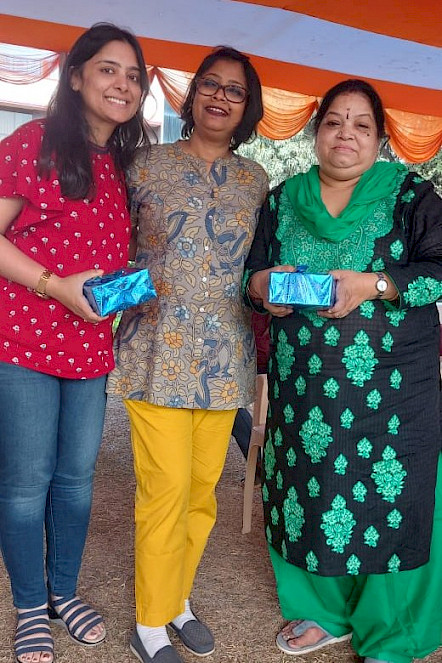 Preeti Kedia Meghani and Lalitha Sheshadri
At the picnic, receiving prizes from Sumita Singh ASHA President.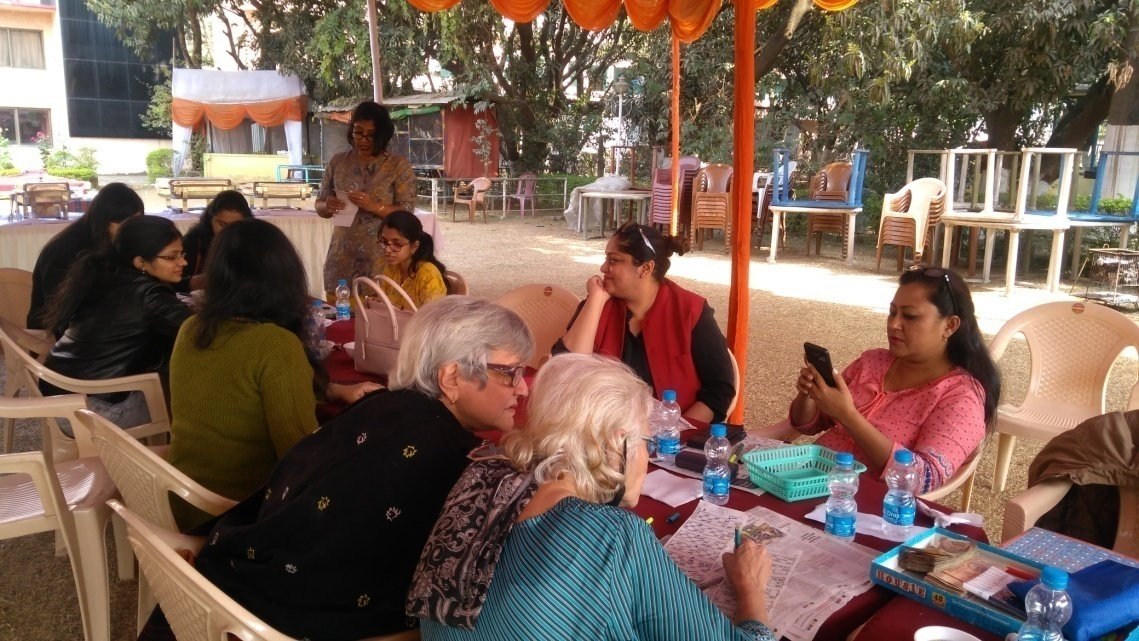 Picnic at Hotel Hill View on the National Highway 33. Preparing for Tambola.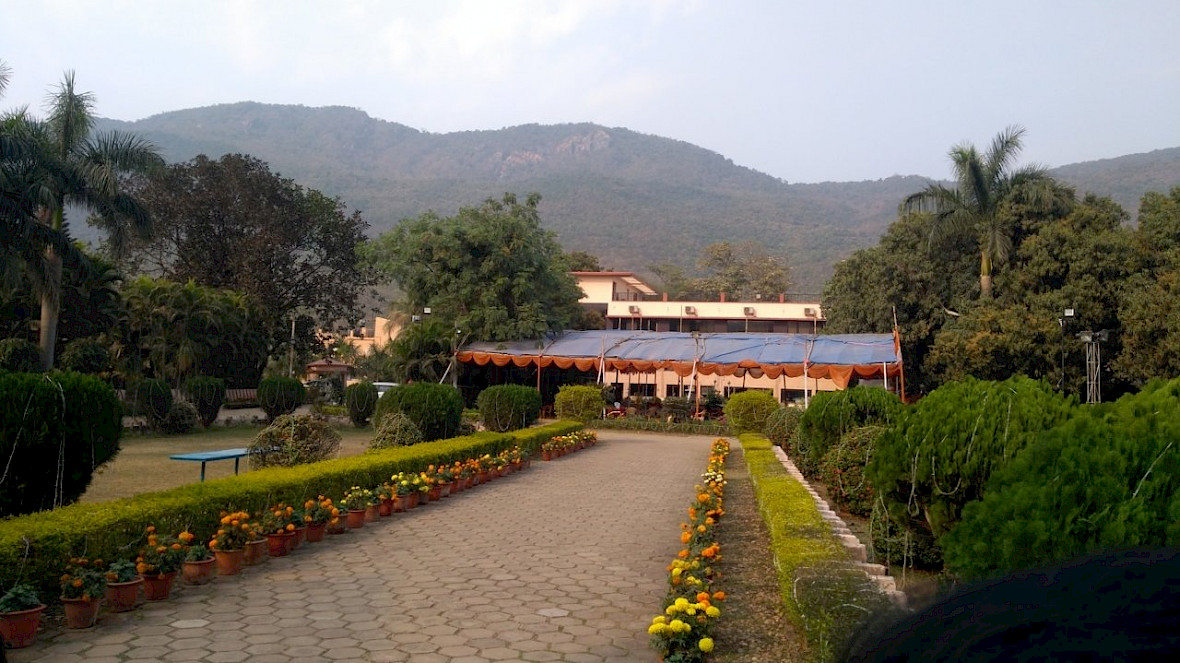 Hotel Hill View Resort overlooking the Dalma range in the background.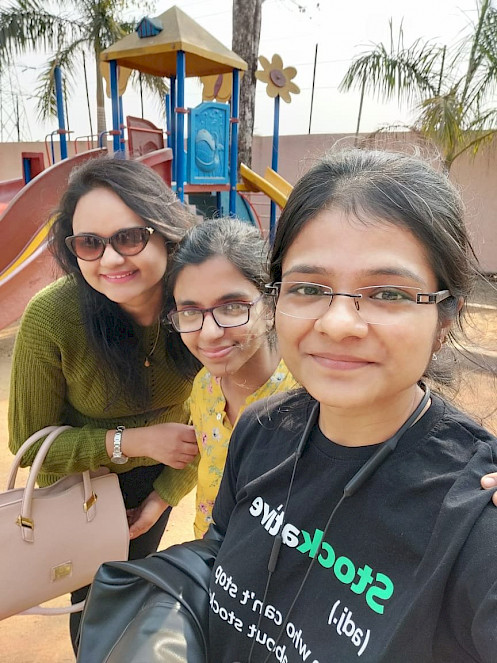 Youngsters at the picnic.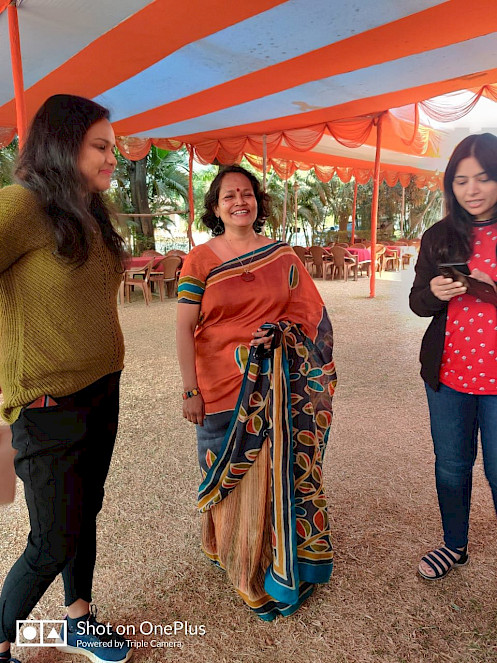 Pubalee Bera in her traditional sari at the picnic site.
She is a member of a group promoting the tradition of wearing saries.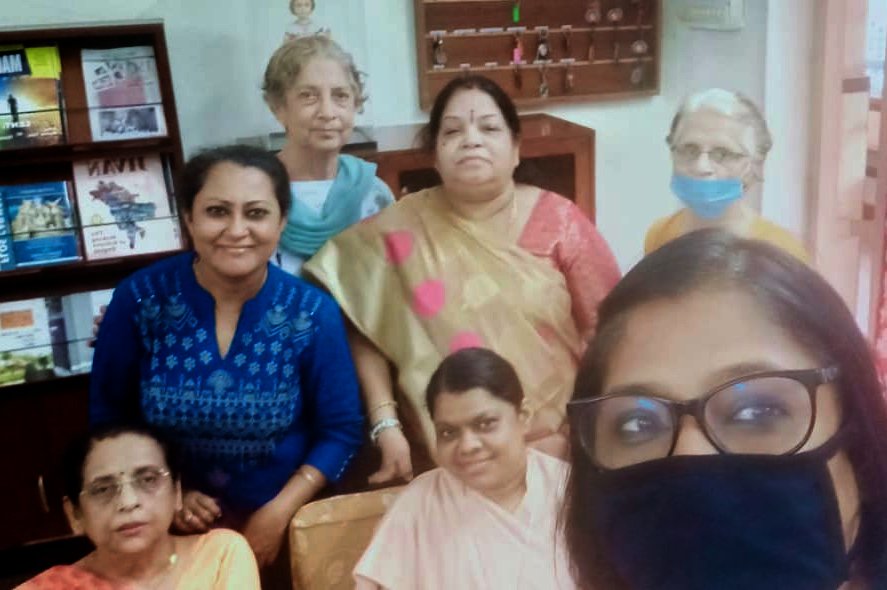 16th July '20 ASHA members are at Convent to greet sisters on the day of Carmel Feast. School Principal Sister Rashmita sitting in the centre.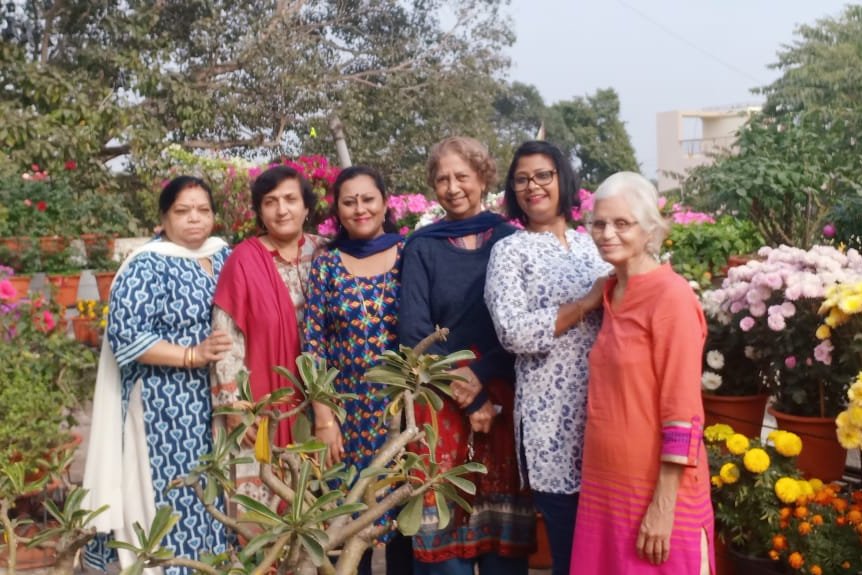 ASHA Committee members
From left to right: G Lalitha, Neera Nandwani, Samarpita, Manjeet Marwa, Sumita Singh, Mahrookh Mehta.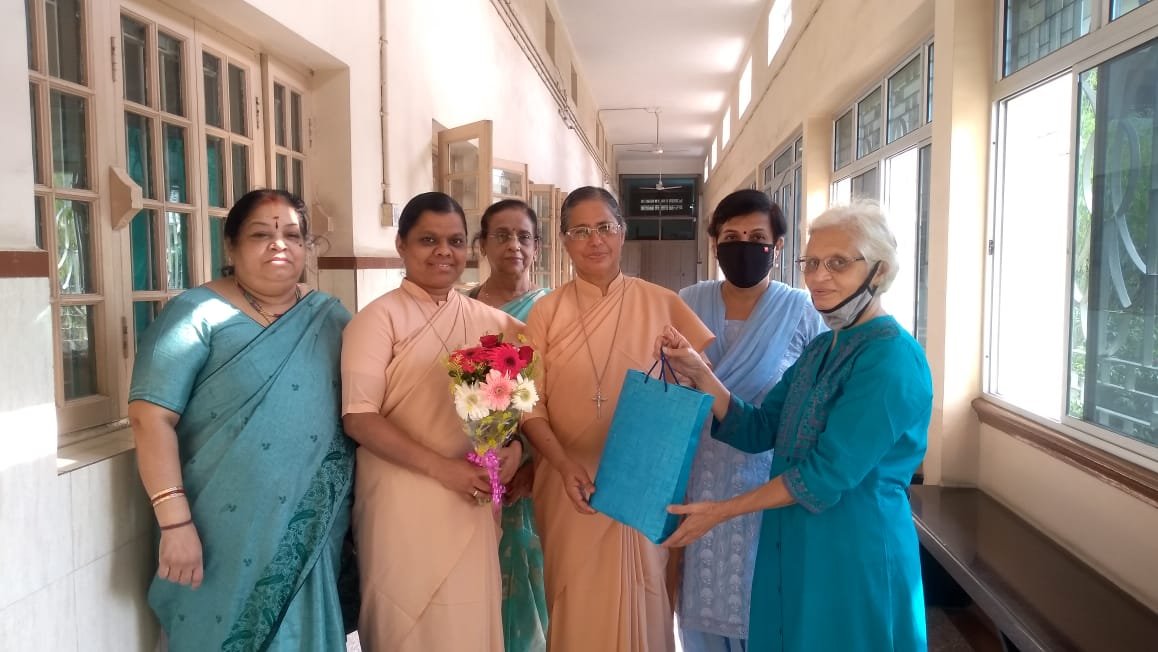 ASHA members visit the Convent on the Carmel Feast Day.
From left to right: Lalitha Seshadri, School Principal Sister Rashmita, Late Reena Hazra, Sister Superior Valsa, Neera Nandwani & Mahrookh Mehta.
Obituary
ASHA lost its senior members: Reena Hazra in December 2020 and Rachel Bonerjee in April 2021.