New Literary Venture
Posted on 20 September 2018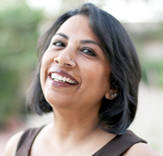 As one of the new ventures, ASHA started a New Activity to give wings to the Literary passions of the Alumni. Alumnus Jane D'Suza held a workshop at the Centre For Excellence and taught the students to think differently with different perspectives and she also dwelt on the art of writing.
30 March 2018, alumnus Sarbari Chowdhury showcased a Documentary Broto Alponas in the Centre For Excellence. A debutant filmmaker, Sarbari Chowdhary is avidly interested in the cultural heritages of the world. Her mission is to document these global cultural idioms, with a view to preserve them. Her debut narrative documentary, BrotoAlpona, deals with ancient socio-religious rituals of the Woman of Bengal, both in India and Bangladesh. BrotoAlpona, by definition, is a finger- painted art form created during specific periods, coinciding with religious rituals. This film helps her to continue delving into the background of almost-extinct social mores of the native Indians, from Eastern and Northern areas. She collaborates with established film production companies to bring her films to fruition.
Sarbari has acted in several films, is a Director of theater and also a published author, of a book of short stories named "Earthen Angels". Her plays have been stages at various cities in the USA including Phoenix, Arizona, Houston, Texas, Los Angeles and San Jose, California. She has also worked as Chairperson of the North American Bengali Conference's Film segment since 2012.
Sarbari is an engineer by training and has spent more than 25 years in the high tech industry – designing software for designing Integrated Circuits at Intel.
She was born and brought up in Jamshedpur and an alumna of Sacred Heart school.
She currently lives in Chandler Arizona, with her husband and two children. She divides her time between Kolkata, India and Chandler, AZ, USA.